Size suggestions:
47*78 in (120cm*200cm is suitable for full size)
59*78 in (150cm*200cm suitable for Queen size)
71*78 in (180cm* 200cm for extra large)
78*86 in (200cm*220cm suitable for king of California size)
Product description
😴 Beautiful feeling - keep your mulberry silk comfortable with our season! Warmth.
Natural materials - silk bed sheets are made of viscose fibers.
🔥 It is very suitable for people with sensitive skin.
😍High quality silk and design - made of silk flat, weaving elegant weaving. A beautiful gift for special occasions such as Thanksgiving, moon craft or anniversary.
💯No More Coming Off – eep pocket design and elastic band around the whole bottom and stay below, even if you toss and turn, the corner will not pop up. Fitted sheets maintain their shape, eliminating the need to fold sheets or buy belts or clips every day.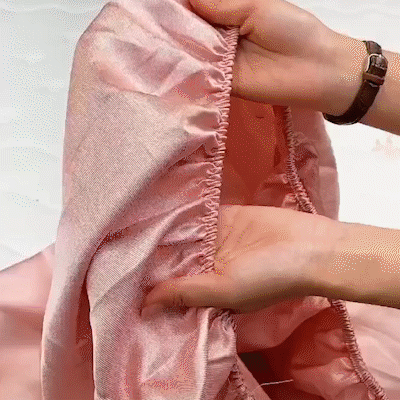 High quality fabric - breathable, wrinkle resistant, very soft and comfortable, bringing the ultimate sleep experience
Stay the same all night – the fabric with 4-way flexibility technology can stretch on the mattress and be firmly fixed in place all night
🔥 4-way stretching covers the top and all 4 sides, which fits tightly like gloves to prevent children from scratching
🔥 No more corners pop up; No longer fold the sheets every day; No longer buy belts or clips

🔥It is very suitable for memory foam mattresses, adjustable beds, and even mattresses of strange sizes.

Package includes:

Full size: 1 * bed sheet, 1* Pillowcase
Large: 1 * bed sheet, 2 * Pillowcase
Extra large: 1 * bed sheet, 2 * Pillowcase
California King Size: 1 * bed sheet, 2 * Pillowcase